How Maple Syrup Flows From Trees to Your Breakfast Table
by
Kelly Joslin, Community Outreach Manager, Wissahickon Valley Watershed Association
WVWA Maple Sugaring Festival
Sunday, March 1, noon-3 p.m., 12 Morris Road, Ambler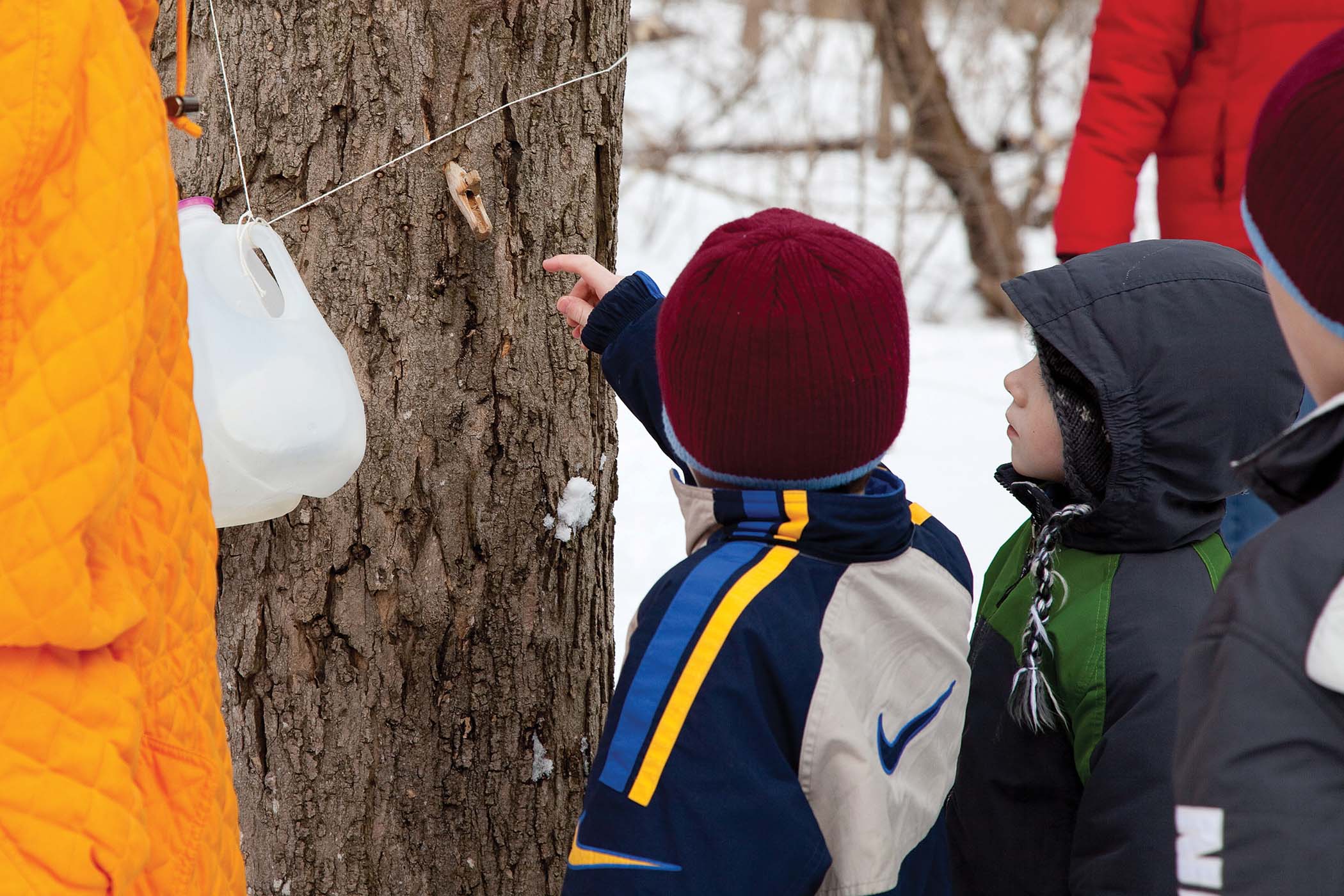 Guides take small groups through the woods to see the tapped maple trees and then watch it get boiled into sugar. We end the hike in the historic Four Mills Barn with hot cocoa, waffles, and maple syrup. Tours last approximately 45 minutes. Book your tour at wvwa.org.
PRICING:
WVWA Members: $5 adult/$3 child (12 years and under)
Non-Members: $10 adult/$5 child (12 years and under)
You're fast asleep when a wonderful aroma drifts into your room. You sit up and sniff the air. The unmistakable smell of pancakes makes your mouth water as you jump out of bed and head to the kitchen to find a stack of flapjacks. You can't wait to soak them in that sweet and sticky substance that turns pancakes into a breakfast treat: syrup!
Most of us know that maple syrup comes from the sap of sugar maple trees and that it takes roughly 40 gallons of sap to produce one gallon of syrup. But did you ever wonder where the sap comes from and what the tree uses it for?
Sap inside a tree is a bit like blood inside the human body. Sap flows through a part of the outer tree trunk known as sapwood, delivering water, sugars, and nutrients throughout the tree. Sap production begins in warm summer months through the process of photosynthesis. This creates carbohydrates that get stored in the tree as starch. The starch then gets converted to sugar in the form of sucrose that dissolves into the sap, which is stored for the winter. Scientists believe that the sap's main purpose is to provide nutrients to new leaves as they grow. In turn, those leaves will fuel the process of photosynthesis that starts the sap production process all over again.
The arrival of spring brings the alternating freeze/thaw cycles that make the sap flow again. The rising temperatures during the day create positive pressure within the tree that will force sap out of any holes in the tree. Negative pressure develops inside the tree at night when temps drop below freezing. This creates a suction that stops the sap from flowing out of the tree. This suction force also pulls water through the tree's roots to replenish the sap. The cycle continues until temperatures stay above freezing, at which point sap will stop flowing and begin the sap production cycle anew.
WVWA's annual Maple Sugaring Festival is a chance to learn more about the natural history of maple trees and the sugaring process. We invite you to join us on Sunday, March 1 for a guided hike that ends with a sweet, tasty treat. This event sells out, so be sure to sign up early.