by
Nathan Relles, for the Shuttle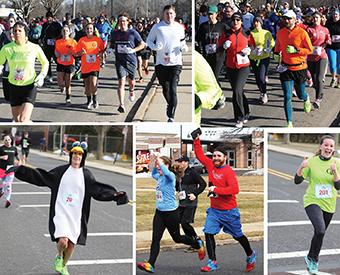 With the start of the new year, many of you may be reflecting on 2017 and what you'd like to accomplish in 2018. If regular exercise is on that list, we'd like to introduce you to the Ambler Area Running Club. The purpose of the club is to develop and promote local running and racing, to provide running-related information and social activities and to enhance training opportunities in a supportive atmosphere. AARC sponsors weekly group runs to help members stay motivated and help beginning runners get started. 
Just as Weavers Way is not just a grocery store, the AARC is not just a running club — it's an organization that helps our community become stronger and healthier. Each year the club raises money for community organizations with two big race events: the Fireside Frostbite 5-Miler, this year on Feb. 17, and the Phil's Tavern Race in July. Over the years, the club has raised thousands of dollars for organizations such as Wissahickon Valley Watershed Association, Kelly Anne Dolan Memorial Fund, Aid For Friends, Girls on the Run and many more. 
For 2018, AARC has made its beneficiary Weavers Way Co-op!
Since Weavers Way is not a nonprofit, the Co-op plans to use the funds to help make its stores accessible to a greater number of low-income households. Through the Food For All program, households receiving public assistance (SNAP, TANF, WIC or Medicaid benefits) get 10 percent off everything at the Co-op every day and pay a reduced membership investment of $5, compared to the standard $30. With AARC's help, Weavers Way hopes to be able to sponsor membership for anyone eligible for Food for All.
"We are incredibly grateful for AARC's generous support," said Weavers Way Marketing Director Crystal Pang, "and hope that you'll consider supporting them in return — if you'd like to volunteer for the February event, it's also a great way to get working member credit!" 
Meanwhile, if you're interested in running on any level, pair up with a friend or loved one, or find a new AARC buddy, and sign up for a race. (They say it's easier to run with four legs than two!)
To learn more about the Ambler Area Running Club, or to sign up for the Fireside Frostbite 5-Miler, visit www.aarclub.com.
Nathan Relles is a member of the Ambler Area Running Club.