by
Tim Clair, Chair, Food Moxie Board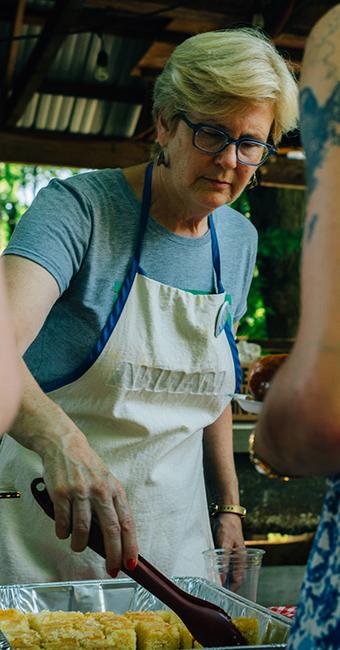 We want to wholeheartedly express our gratitude to Laura Morris Siena for the commitment of her time, talents, and resources to this organization over the last six years. As her term comes to an end and she steps down from our Board, Laura leaves Food Moxie (Weavers Way Community Programs when she joined) a stronger organization poised to serve even more community members with important programming and resources.
Laura brought a wealth of talents to the Food Moxie Board, including many years of professional and personal experience in fundraising and community development. Her passion for local food, her roots and relationships in Northwest Philadelphia and her deep commitment to Weavers Way have helped our organization grow to meet the challenge of our vision: a world where all people can grow, cook and enjoy healthy food. All organizations have lifespans; Laura has guided Food Moxie through adolescence and has prepared us to do amazing things over the coming years.
As Mira Rabin, former Board chair and one of Laura's closest friends, shared: "You know how you're tired at the end of a long day of working on something and you say, 'That will have to be good enough'? Laura never says that." Laura raised the bar for Food Moxie and challenged us as an organization and as people to do our best.
But maybe more important than her skills and experience, Laura has been the soul of our organization. She cares deeply for the staff, our partners and participants and her fellow Board members. She shared her insights and wisdom with me, as incoming chair, to ensure we continue on the right path. And while our three new Board members, Jean Carne-Wolfe, Lauren Cohen and Catherine Kendig, will miss out on the opportunity to work directly with Laura and share the delicious meals she has shared, they will benefit from her legacy.
We are all grateful for the leadership, grace, and generosity with which Laura has guided Food Moxie and look forward to remaining connected in new and creative ways.