by
Karen Plourde, Weavers Way Communications Staff

Ambler's Got the Frozen Blues
A bucketful of blueberries in winter? Ambler has them for $3.25 a pound in the freezer section, courtesy of our pals at Common Market in Kensington. It's "scoop your own," so bring a bag or container, and they'll be weighed at checkout. Your oatmeal will thank you.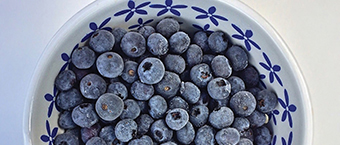 Meat & Fish Market
Try the sausage — we make it ourselves. 
We promised to introduce our own pork sausage once our Ambler store opened, and so it has come to pass. The full-service meat case on E. Butler Avenue boasts six varieties, all $6.99 a pound, all made with heritage pork from Breakaway Farms of Mount Joy, Lancaster County. Although the selection may change from time to time, there'll always be hot and sweet Italian links in the case, as well as breakfast sausages. 
In time, if sales merit, the links will migrate to the Co-op locations. But for now, Ambler is the only place to satisfy your Co-op-made-sausage craving.
Going On in Grocery
New frozen vegetarian options from Sweet Earth. And hallelujah! (Safely) Edible cookie dough has landed.
Some of the vegan and vegetarian choices in the freezer cases are intriguing, even to an omnivore like myself. Take, for example, the Sweet Earth line of frozen entrees, available in all our stores. Chestnut Hill has added the Santa Cruz burrito — the classic presentation with pinto beans and Monterey Jack — along with Pizza Mac 'n' Cheese (Tuscan veggies, two cheeses and roasted tomato). Ambler carries the vegan Kyoto and Curry Tiger burritos, while Mt. Airy stocks the Kyoto. The Hill also offers two of Sweet Earth's vegan bowls: Kyoto Stir Fry and Gen. Tso's Tofu.
Admit it: You've rolled the dice and dipped into raw cookie dough. Now, thanks to Normal, IL's Cookie Dough Café, you can get your fix without courting salmonella. The Ambler store is stocking one-pound containers of chocolate chip and gluten-free oatmeal chocolate chip, and four-packs of chocolate chip (3.5 ounces each). 
If you prefer to actually bake your baked goods, Ambler has also brought in McCutcheon's mixes for pie crust, biscuits and apple and spice cake. It's the same Frederick, MD-based company that provides many of our jams and fruit butters.
Bulk & Beyond
A candy classic and ginger cashews in Mt. Airy. And pear champagne vinegar for your winter salads in Ambler.
Licorice is a love it/hate it item, to be sure. But licorice lovers (like myself) will be pleased to learn that organic black licorice coils are now available in a scoop bin in Mt. Airy. They're $11.99 a pound.
For those who prefer their nuts with a kick, Mt. Airy and Ambler have also brought in organic ginger turmeric cashews from GrandyOats of Hiram, ME. They're a perfect combo of bite and spice at $15.69 a pound.
In liquid bulk news, Ambler now carries pear champagne vinegar from Olive Oil Source of Santa Ynez, CA. It's $4.15 a pound, which is how we sell even the liquids in Bulk. Figure it this way: Since a basic vinaigrette recipe calls for three-quarters of a cup of oil to a quarter cup of vinegar, a "pound" of vinegar will make four cups of salad dressing.