by
Maura McCarthy, Executive Director, Friends of the Wissahickon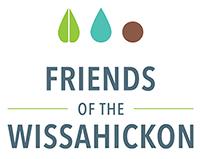 Dogs running off-leash is an issue in all of Philadelphia's parks. However, an increased number of incidences of dog attacks, biting and fights, as well as reports of poisonings and discussion of aggressive citizen-control measures prompted Friends of the Wissahickon to host a community meeting last month to address growing safety concerns surrounding unleashed dogs. 
Despite pouring rain, nearly 100 park users and representatives from Philadelphia Parks and Recreation and adjacent neighborhoods and police districts, gathered at Valley Green Inn, beginning a productive dialogue and considering feasible short- and long-term solutions that balance varied interests and available resources while promoting safe, responsible, enjoyable park use for all. 
A Matter of Enforcement 
Philadelphia requires that dogs be under owner control and on a leash no longer than 6 feet. The ordinance applies to all city parks, and in the Wissahickon includes Forbidden Drive, the Andorra Natural Area, Carpenter's Woods and all hiking and biking trails. 
FOW volunteer Trail Ambassadors do their best to educate park users on using dog leashes, but cannot enforce regulations. Police officers and park rangers may fine dog owners or hold them responsible for damage or injury caused by their dogs, but there just aren't enough of them. 
To Free or Not to Free 
Dog owners and professional dog walkers at the meeting made it clear that they want to be responsible citizens and support the need for safety, agreeing that dogs with an aggressive history or behavior should be kept under control. But they asserted that dogs are born to run and play, and a properly exercised dog is happier and healthier, and that people violate the leash law because there are few alternatives to let them do that. Indeed, there is a lack of off-leash dog parks and dedicated dog runs in Northwest Philadelphia — there should be more options. 
Proponents of leashing cited safety as their top concern, describing experiences of unleashed dogs posing threats to themselves, their children and their own leashed dogs, as well as disturbing bird habitats and regularly harassing horses, both on the trails and in the stables. Some said fear is changing their perception of the park and determining how they use it, which is a serious problem. 
Moving Forward
To a certain extent, FOW is biased on this issue. We are committed to the safety of all park visitors (including dogs), but also to preserving the fragile urban-forest understory and habitat and preventing contamination of our water supply. We love dogs — as long as they don't compromise these priorities. 
The real issue here, though, isn't about dogs. It's about people and how we can use the park together in a safe, respectful way. 
Based on the many recommendations voiced at the meeting, four main categories emerged for further dialogue and participation among selected organizational leadership and interested individuals:
Policy and enforcement review and enhancement (Parks and Recreation).
Designated space and times for dogs to be off-leash.
Special licensing/certification (for example, dogs could undergo specific park training).
Increased FOW Trail Ambassador and park ranger presence and signage, including special instructions on activating policy and animal control in the event of an incident
To those who attended the meeting, thank you for your thoughtful, respectful input. For those who were unable to come, but who want to weigh in, please share your feedback and read the minutes from this meeting at fow.org/fow-public-meeting-on-dog-safety.
We come to the Wissahickon to find peace — as one speaker at the meeting said, we all need the opportunity to "unleash" – and that's what we hope to achieve on this important community issue as well. We will get there by working together.
For more information about Friends of the Wissahickon, visit fow.org.