by
Norman Weiss, Weavers Way Purchasing Manager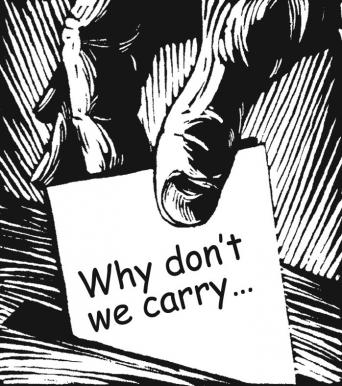 "Major ingredients in the management of many co-ops these days include sale prices and end caps and category management and similar efforts to maximize sales and margin, as opposed to working more directly to empower consumers to understand the system and figure out the healthiest possible way forward."
Greetings and thanks for writing. As usual, suggestions and responses may have been edited for brevity, clarity and/or comedy. In addition, no idea, concept, issue, remark, phrase, description of event, word or word string should be taken seriously. This also applies to the previous sentence.
"Price image" and "price perception" are buzz words in retail for how customers think of pricing — be it high, low, in-between or a mix. Retailers are encouraged to manage their customers' — and potential customers' — perceptions of prices using a variety of practices, including keeping prices low for items many people are price-conscious about, like milk, eggs, bread and bananas, and making up for it with items people are not so price-conscious about — fancy meats and cheeses and gourmet groceries like olive oil.
While we and most co-op groceries participate in this practice, the purist in me views this practice as lying to consumers, partially because it turns buying and selling food into a retail game of how to generate the most income instead of how to create and sustain a healthy, fair food system. A product has a measurable cost to produce, transport and otherwise get it to the shelf (including the grocer's overhead) that should be possible to calculate. In a fair food system, that should be the price, since that's the reality of the processes involved and therefore a kind of truth.
In the past, part of the role of a consumer co-op role was to represent the consumer's interest in the marketplace. Part of that interest is truth in pricing. For a short while, there were even some co-ops that experimented with "direct charge" pricing. In direct-charge co-ops, the shelf price was basically what the producer or wholesaler charged — there was no real markup. The expenses of actually running the co-op were tallied up and shared equally by the members. This was pretty transparent and members could see both what the food cost and what it cost to run the store. There is still one operating direct-charge co-op that I know about, Fredericton Co-op in New Brunswick, and it gets great reviews.
Direct-charge co-ops have their issues, but they are one example of more truthful pricing, and they avoid the how-can-we-manipulate-the-consumer thinking that's now as common in co-ops as it is in profit-oriented food stores.
Major ingredients in the management of cooperative groceries these days include sale prices and end caps and category management and similar efforts to maximize sales and margin, as opposed to working more directly to empower consumers to understand the system and figure out the healthiest possible way forward, which might look more like a Community Supported Agriculture program than a retail grocery.
Speaking of CSAs, I recently visited Pennypack Farm and Education Center in Horsham, PA. Pennypack Farm staff were hosting a tour and talk about the practices and materials they use to extend their growing season through the winter, including low tunnels and hoop houses — greenhouses that keep temperature and humidity high and wind pressure low. This allows suitable plants to grow well in the winter so Pennypack CSA members can have vegetables like carrots, kale and lettuce through most of the winter. They've also perfected storage techniques like surrounding sweet potatoes with playground sand after curing, which makes them available all winter long. Overall the farm operations were pretty interesting, as is the organization itself, great examples of a healthy food system.
Also, the farmers work hard and expend a lot of calories growing and getting the food to CSA members. In my perfect world, honesty in pricing would dictate prices be shown in joules, a measure of energy, but so far no one has bought into this value system.
Maybe after the Bitcoin business settles down, joules can be next.
suggestions and responses
s: "Did not know Cabot Creamery was also a co-op."
r: (Norman) Cabot Creamery is indeed a producers' co-op, formed in 1919 by 94 farming families in Cabot, Vt. Currently it has more than 1,100 farmers producing milk for cheese, yogurt, butter, and other dairy products. Cabot is also a certified B Corporation. We purchase Cabot products from wholesalers, but with the opening of our Ambler store, we may be approaching enough volume that we can deal directly with Cabot. We have also been included in some talks with other Philadelphia-area co-ops about dealing directly with Cabot, as it would fulfill our common value of co-ops cooperating with other co-ops.
s: "Many people assume their milk has vitamin D in it and drink it as a source of calcium and vitamin D. But vitamin D has to be added to milk. I just discovered that Merrymead does not add vitamin D (or anything else) to their milk, which is probably a good thing. But people who buy it should be aware that it won't give them any vitamin D. There are no natural sources of vitamin D other than sunshine, so we have to either take vitamin D pills, or eat or drink foods that have it added."
r: (Norman) Good point, we used to have signs up that explained Merrymead doesn't add vitamin D. We'll re-post. Thanks!
s: "Can we get buses to stop at our Ambler store, or do they?"
r: (Norman) SEPTA's Route 94 bus goes from the Chestnut Hill Loop, up the Avenue from our Chestnut Hill store, to the Montgomery Mall via Ambler, mostly along Bethlehem Pike. It stops at Lindenwold and E. Butler avenues, just across the street from the Ambler store. In addition, the Lansdale-Doylestown train goes from Center City to Ambler via Wayne Junction. The store, at 217 E. Butler Ave., is less than a half mile — about eight blocks — from the Ambler train station.
s: "I bought a doggie coat using EasyPay and immediately afterwards started getting Google ads for doggie coats. Does Weavers Way share data"?
r: (Norman) We do not share any identifiable shopper or member data with any other organization. Our Board has historically been pretty strict about this. We do share scan data — items passing our checkout scanners are sent to SPINS, an industry data-analytics company. This data consists of UPC number, quantity and price. It is not grouped or batched with any other data, other than that it comes from Weavers Way. No shopper or payment data is included. This is common in our industry and required by our trade group, National Cooperative Grocers. The data is aggregated with other co-ops, natural food stores and independent supermarkets. NCG uses the data to help co-ops with things like category management, negotiating deals with suppliers and in general understanding what people are buying, both at co-op stores and non-co-op stores. It seems more likely there's some other reason the doggie goods people found you — if you recently researched dog coats online, or even if you have a smartphone app with location services that recognize you visited a pet-supply store.
s: "Ever since I updated my iPhone to iOS 11 the battery runs low before the day is two-thirds over. Since I'm rarely on my phone while shopping (shopping at Weavers Way seems to require two hands most of the time), and since our stores are often buzzing with energy, I was wondering if there was a way to capture some of that energy for charging my phone as I shop."
r: (Norman) While it sounds far-fetched, this is not impossible. You might remember some of characteristics of electromagnetic radiation from high school physics: When you are shopping, you are basically moving charged particles in your body around, creating electromagnetic radiation, so the potential energy to generate some current is there. Next step is to visit the Mt. Airy Learning Tree website and sign up for Jedi training, which will allow you to use the Force to channel that current to your phone.
Keep in mind that the Force uses lot of calories, so you might want to munch some high-calorie foods like nuts, which if you tell people about this, they will think you are what you eat.