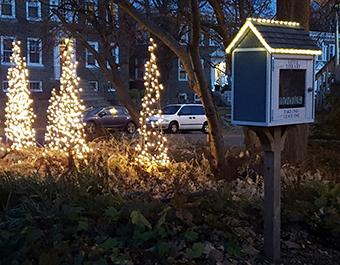 Ned Wolf Park, the neighborhood garden oasis perched at the corner of Ellet and McCallum streets around the corner from the Mt. Airy Co-op, now has its own dedicated electrical source — and it's free.
Last month's holiday lighting, operated by a daylight sensing timer, was a big hit with neighbors, said Eric Sternfels, long time Ned Wolf Park volunteer who coordinates the park's annual plant sale fundraiser.
"We got the electrical hook-up when we reached out to Heather Pierce, a neighbor who chairs the West Mt. Airy Neighbors Quality of Life Committee," Sternfels said. "The city was able to provide us with a padlocked outlet off the internal lamppost within the park." 
Having electricity available opens up the park to host more events and activities, Sternfels added. 
"We received word from the City of Philadelphia Office of Arts, Culture and Economic Development that Ned Wolf Park was chosen to host a 2018 event: art, dance, music, theater, or film performance. But it may be a while before we learn the specifics."
The Friends of Ned Wolf Park funded the physical light strings, laser projection fixture, timer and extension cords from its cash reserve (plant-sale proceeds and occasional donations). Lighting to the Little Free Library box, however, is battery-operated. 
Next on the wish list: water.
"We are still in communication with Councilwoman Cindy Bass, who indicated publicly that she will direct some General Budget discretionary funding to help Ned Wolf Park with another long-hoped-for improvement, dedicated water service," Sternfels said.
"Since setting up the lighting Nov. 26th, we have had reports and witnessed people with children and pets captivated by those lights. People are breaking out their cell phones to video the effect . . . That's the kind of impact that makes us feel good about using a pretty tiny amount of electricity for community joy." 
Check out the lights until around MLK Day, Jan. 15.