by
Crystal Pang, Weavers Way Marketing Director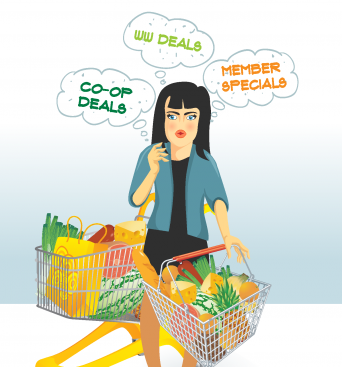 Starting mid-January, we are changing the format of our in-store specials flyer to make it easier for shoppers to see what's on sale. The new four-page Co-op Deals flyer will include special offers from every department, in all three Weavers Way locations — Ambler, Chestnut Hill and Mt. Airy. 
To create this comprehensive flyer, we're combining the old Weavers Way Deals — our buyers' picks for fresh food, wellness products and pet deals — the old monthly Member Specials and the specials from the national Co-op Deals into a twice-a-month, four-page flyer available in stores and online. 
Deals that we formerly offered as member-only specials will now be available to all of our shoppers as Co-op Deals. But we'll still be rewarding our members with a major Member Special twice a month. Look in every Weavers Way Deals flyer for this discount on a top-selling item or product line for members only. 
We'll also still provide copies of the national Co-op Deals flyer, which includes recipes and other valuable information. But the new version of the flyer, which is provided to us by the National Cooperative Grocers, will finally be customized so it only features what we sell at Weavers Way!
With all of these, you'll find more deals (and Deals) at Weavers Way than ever before. But you really should come in and see, because we always have more specials than we can advertise — a very short-term deal from a vendor, for example, a discount that's only available in one store or a last-minute produce price break.
Our goal in making these improvements is to support our shoppers in getting the high-quality products they want at a great value. So the next time you're in any of our stores, look around for the hundreds of green "Co-op Deals" and "On Sale" tags! 
And don't forget those purple tags: Those are Co-op Basics, items that are ALWAYS a good deal, with everyday low prices. 
Happy shopping!